"… I truly love creating customised products with my customer in mind – thinking of them at every step of the process to develop a personalised fragrance product which helps them to recall their most cherished memories."
Hello, and welcome to Gladys & Jack! We're elated that you've stumbled upon our personalised fragrance products, which we're so passionate about creating for our customers, their friends, and families.
We thoughtfully craft deliciously aromatic products and gifts customised from high-quality ingredients, sourced from local Australian suppliers that are cruelty-free.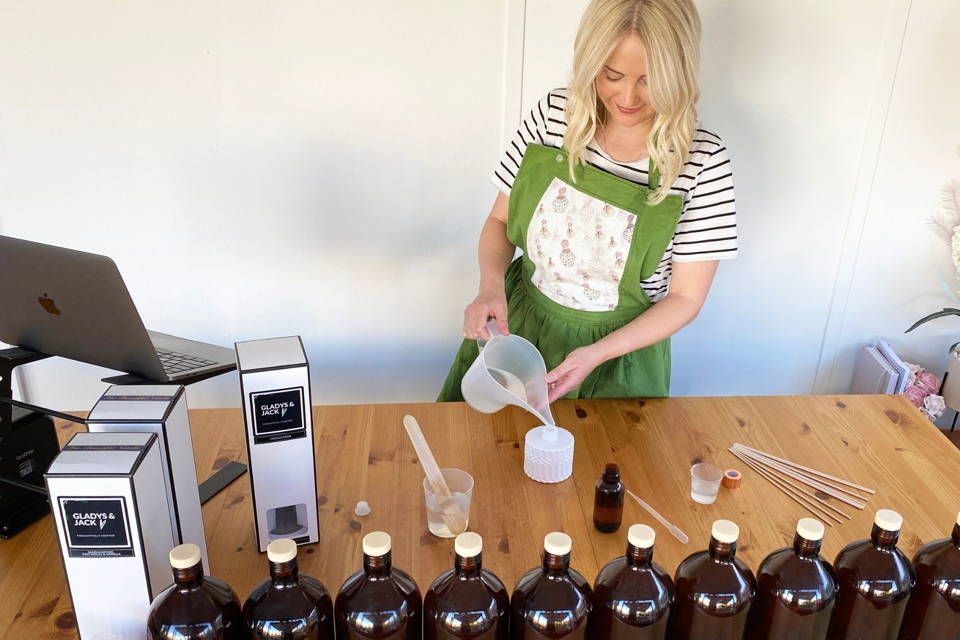 I'm a mum of two teenagers (and two fur babies), so I understand the necessity of masking smells. Having been in love with beautiful, exotic fragrances since I was a child, my daughter and I were continually searching for Australian-made products with aromas which would go the distance that we could customise to our personal style and decor, with no luck, so we decided to create our own!
The Origin Of Gladys & Jack
Gladys & Jack is a Melbourne-based small business that is the product of a tumultuous year as it was for many, with a life-altering physical diagnosis and the 2020 global pandemic. Gladys & Jack evolved from a creative outlet where I poured all my thoughts and love into every step and element, blissfully losing myself in the moment and the aroma to quickly becoming a hobby.
We started thoughtfully crafting products for my Mum and Aunties on Mother's Day and labelling them for sentimental value in remembrance of my loving Grandparents Gladys & Jack. My Grandparents were thoughtful and generous people, who loved to keep others connected, making them feel loved and included. These qualities have underpinned our business values from the get-go.

Our friends and family members were overjoyed with their Gladys & Jack gifts! Word started to spread as tales of the long-lasting fragrances were shared with friends of friends of friends. While the thought hadn't previously crossed my mind to sell these products, I decided to take the plunge with the hope it would continue to allow me to spend my days living out my dream and passion. After selling 200 items within the first three months by word of mouth, I was encouraged to share my products with the rest of Australia. And here we are!
The Scent Of Your Favourite Memories
With a bachelor's degree in Psychology, I understand the importance of Olfactory sense (which means the sense of smell), and how it is one of the strongest and most powerful influences on memory formation.

A scent can trigger vivid memories and evoke strong emotions, taking you back in time or on a new journey altogether. Like one of my customers shared 'the smell of Japanese Honeysuckle takes me back to lovely memories of when I was a kid, playing around outside in Mums garden - it makes me feel a sense of comfort like Mum is close'. This phenomenon inspires us to develop personalised products and scents that make for meaningful home décor and thoughtfully handcrafted gifts.
Browse through our constantly evolving range of fragrances which can be combined to evoke cherished memories, lay foundations for new ones or simply fill your home with the delicious scents you love.